Brook Farm Cattery – Twinkle Cabin
Twinkle Cabin is our smallest cattery and can only house up to 6 cats, it has three Single/Twin rooms. Twinkle Cabin was initially built as an overflow cattery but we found that a lot of our customers loved how small and cute it is and requested the rooms for their cats, so now it has become our favourite cattery. Even though it is our smallest cattery Twinkle Cabin offers more space for the cats, it has large patio doors allowing lots of fresh air making the each room feel larger, we also added multiple levels to the rooms and gave the two rooms one the edges their own windows, the middle room is directly centre to the patio doors and has much more open view than any of the other catteries. we make sure the cats have fresh air, scratch posts, litter boxes, an assortment of toys, clean bedding, fresh water, music, heating/cooling as needed and plenty of cuddles!
At Brook Farm Cattery we provide every one of our guests with food and treats built into the price, however if you want to bring your own food, litter, bedding, toys etc…you are welcome to do so!
Why "Twinkle Cabin" ?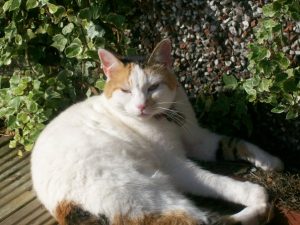 Twinkle was our second family pet and was with us for 9 years, she was wilful and very playful. She had plenty of energy and loved being outdoors and she regularly brought us presents back. We decided to name our smallest cattery after her as she was pretty, cute and our little star. Twinkle!